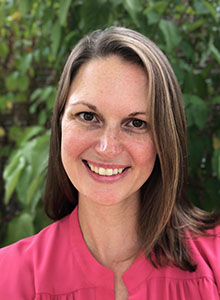 Dr. Crosby Troha
Adjunct Faculty
Professional Biography
Dr. Crosby Troha (She, Her, Hers, Ella) is a licensed clinical psychologist with over 17 years experience conducting therapy, assessments, and consultations in Spanish and English with children and families in Colorado. She was born and raised in Denver, graduated from Kenyon College in Ohio, and lived and studied in Buenos Aires, Argentina, before returning to her Colorado roots. She is an alumna of the PsyD program at GSPP, and completed her doctoral training as the pediatric psychology intern at Children's Hospital Colorado in Aurora.  
Dr. Troha's personal and professional journey is rooted in her belief that all humans deserve access to resources, relationships and opportunities that amplify individual and communal strengths, promote connection, healing, and wellness. She has focused her work on integrating creative and culturally-attuned care for clients in a variety of roles in local organizations, including National Jewish Hospital, Clinica Family Health People's Clinic, Aurora Mental Health Center, private practices, school and community-based settings, Judi's House for Grieving Children and Families, and Children's Hospital Colorado.  Her areas of expertise include Latinx Psychology, Pediatric Health Psychology, Infant and Early Childhood Mental Health, trauma, grief and loss.
Since obtaining licensure, Dr Troha has stayed connected to GSPP as a community supervisor for student-therapists in the PPC, and as the co-facilitator for the GSPP Internship Consortium's Multicultural Seminar. She has been involved in the Latinx Specialty since its inception, both as a bilingual clinical consultant and an adjunct faculty member teaching courses about therapy and interventions with Latinx and other underserved populations, aiming to reduce mental health disparities.
Dr. Troha lives in Denver with her husband and their two children. She finds daily inspiration through stories, nature and the arts, and is grateful for continued opportunities to teach and learn from clients, students, colleagues, and mentors, and contribute to innovative practices that empower healing through authentic connection, self-reflection, and creative expression in the context of relationships.