At the Graduate School of Professional Psychology, we're dedicated to bettering ourselves and the world at large. We empower and prepare our students for rewarding and impactful careers through an applied approach to education. That education takes place in a supportive, collaborative community, facilitated by accessible faculty and staff that strive every day to challenge, inspire and learn.
We put psychology to work with a wide-ranging human impact. You'll learn proven techniques and cutting-edge new methods and, more importantly, how to maximize the impact of your unique skills and perspectives. Research, clinical and field work, and collaboration with experts all come together to form a foundation of inquiry and exploration that prepares you to excel in your professional pursuits.
Our most crucial goal is to affect positive change in the world and ensure students are able to do so in ways that respect and affirm their backgrounds and challenges. A vibrant network of friends, community members, alumni and local professionals offer their connections, expertise and generosity to help us accomplish those goals. The GSPP community also helps us ensure we continue to look inward to determine how we can bring and amplify underserved voices. We're proud of our history, but the work continues. Join us as we use psychology to steadfastly work to improve our world.
Shelly Smith-Acuña, PhD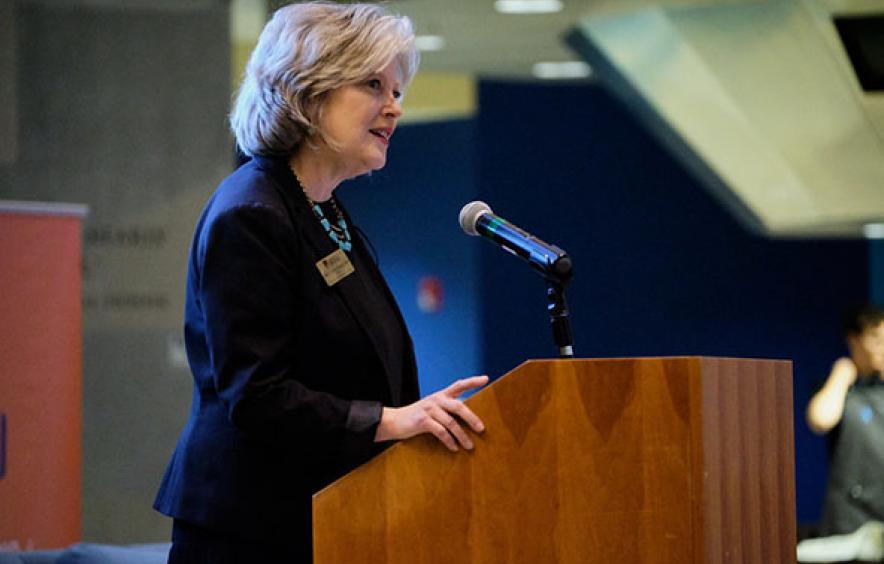 Meet Dean Shelly Smith-Acuña
Dean Shelly Smith-Acuña, PhD, has served in her role as dean since 2012 and has been on the faculty for more than 25 years. She received her PhD in clinical psychology from Loyola University of Chicago and completed an internship at Northwestern Hospital. Her post-doctoral training was at the Family Institute at Northwestern University, where she also developed a program that provided psychological consultation and service in community resource settings.
Dean Smith-Acuña empowers the Graduate School of Professional Psychology to take on today's most difficult challenges. Under her leadership, GSPP has expanded its reach with affordable community psychological resources that support many across Colorado. Equally important to her is increasing access to the psychological training necessary to make an impact in a variety of communities. During Dean Smith-Acuña's tenure, we've added five specialties to support communities with the greatest need. 
Since assuming her current position, Dean Smith-Acuña has leveraged her skills as a published researcher into deepening the applied-research ecosystem within the school. Her personal areas of research and teaching include couples and family therapy, with a particular emphasis on gender, culture and multigenerational issues. No matter the topic, Dean Smith-Acuña helps ensure our efforts can help lead to a more just, equitable and kind society.
Dean Smith-Acuña also plays a significant leadership role on the DU campus by developing and implementing several University initiatives, including DU Impact 2025 (the University's strategic plan), and creating and facilitating interdisciplinary efforts in addressing mental and behavioral health across campus and our city and state. She also holds several leadership positions at DU, including serving on the University's Women's Leadership Council, the Chancellor's Diversity Advisory Council, and the Provost's Academic Diversity and Inclusion Council.
Our Goals and Values
We're determined to excel in several areas that will contribute to our overall goal of serving as a model school of applied psychology and a force for justice and understanding locally and across the world.
Inclusive Excellence

For the field of psychology to be fully vital, a wide range of perspectives and backgrounds must be represented. We're increasing the diversity of our programs and actively working to decrease the financial requirements for a psychology education.

Applied Research

Research is at the center of everything we do. Through rigorous inquiry, we develop new techniques and shed light on age-old dilemmas. We use clinical research to gain new insight while actively improving lives.

Contextualized Care

We work to deeply understand the contexts in which our work is being done. We make sure our students are able to provide care using methods that are culturally and linguistically appropriate to the groups which which they they work.

Collaboration

Within the school, across campus and internationally, GSPP students, faculty and staff establish mutually beneficial partnerships within the field of psychology and outside it. These relationships build the base of knowledge and techniques that makes us special.

Community Impact

We're determined to make life better for the individuals in our communities and to be a transformative force for psychology by:

shaping public policy
increasing access to services
eliminating the stigma that all-too-frequently accompanies engaging in those services